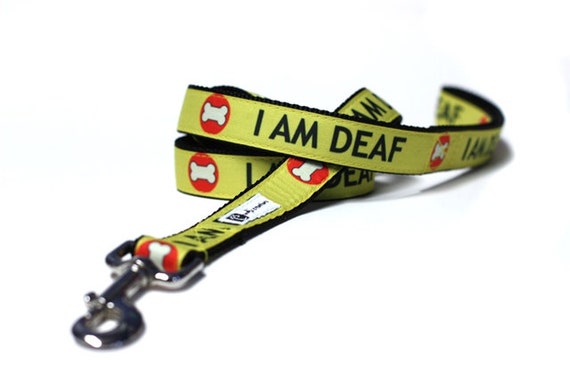 Leash - I Am Deaf
A leash in I Am Deaf, an Exclusive Design. This design was inspired by the Yellow Dog Project:
http://theyellowdogproject.com/The_Yellow_Dog_Project/Home.html
This is a Cody's Creations exclusive design - designed by us for the ones we love!
The yellow ribbon overlay with black I am Blind and Deaf and White bones in red circles is sewn securely over a heavy duty nylon webbing in black. Please choose either a snap hook (last picture on left side, or trigger hook on the right)
Washing is a snap - just place on the top rack of the dishwasher, or wash on a gentle cycle (line dry please).
NOTE: No leash is indestructible, please check your dog's leash frequently for wear and tear and replace when necessary. After purchase, the use of this leash is the customer's sole responsibility