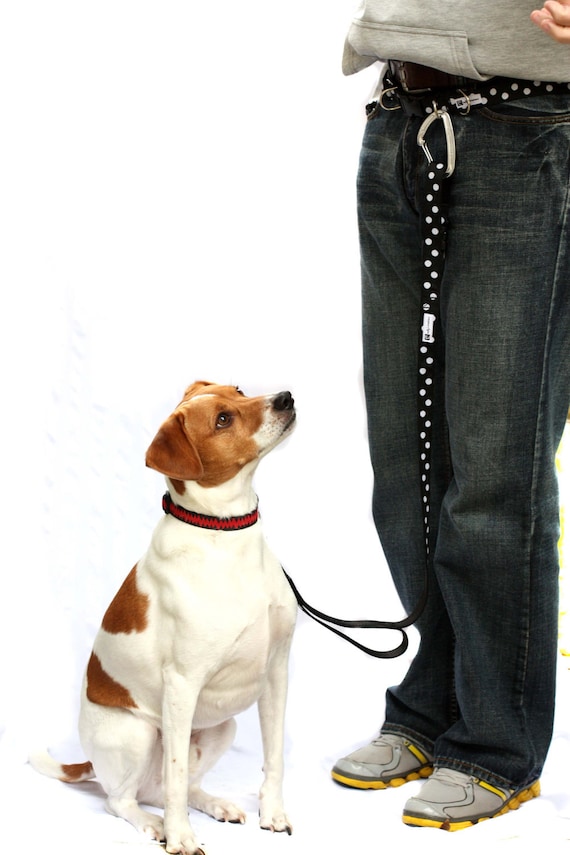 Handsfree Leash
5 available
A handsfree leash system that will have you begging your pup to go for another walk!

Features:

- Adjustable waist belt with 3 d-rings. Attach the carabiner and leash to either stationary d-ring (one on the left and one on the right) or to the floating d-ring depending on where you want your pup to be.
- Leash attaches to waist belt with a weight bearing carabiner
- Your choice of adjustable leash or fixed length leash with traffic handle.
- Leash can be used independently of waist belt
- Buckle in handle of leash: use to tether around object while training, or in case you need to clip your pup to you quickly and you are withouth the waist belt - just open buckle and clasp aroud your belt loop.


Information needed to complete order: (don't worry, I can walk you through the questions to ensure that your Handsfree Leash is perfect for you)
- Waist measurement. While the waist belt is adjustable, we want to ensure that it will fit!
- Would you prefer an adjustable leash or fixed lenght leash with traffic handle?
- What pattern (or color if you would prefer plain) would you like?


Matching collars sold separately.

Washing is a snap - just place on the top rack of the dishwasher, or wash on a gentle cycle (line dry please).

NOTE: No leash is indestructible, please check your dog's leash frequently for wear and tear and replace when necessary. After purchase, the use of this leash is the customer's sole responsibility

*Adorable model and collar not included :) Pepe is wearing the Frankenstein collar in 3/4" width.