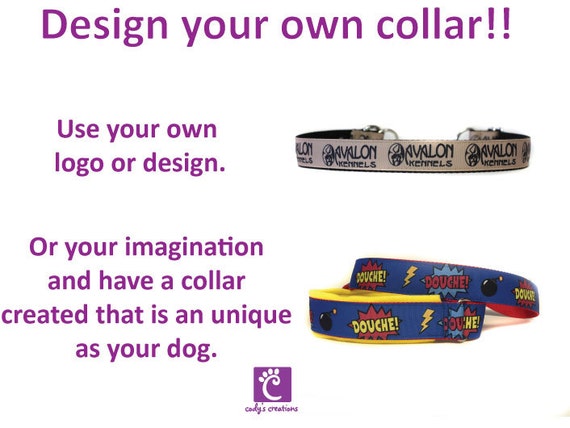 Custom Design Dog Collar - Design your Own, Logo Dog Collar
This is truly a design your own collar!

Do you own your own business or have a picture that you want on a collar (you must own rights to the image being used)? Or do you have an idea for a collar that you have always wanted?

Choose:
- Submit Design - if you have your own logo or image you want to be used on the collar (or leash)
- Custom Design - if you just have an idea

Within 24 hours of payment your will receive a questionnaire about your collar. Once your questionnaire is submitted you will receive your first draft within 2 weeks. Listing price includes 3 revisions, each additional revision will be invoiced at $19 per revision. Once a design has been finalized your collar will ship within 1 week of approval. Please note that start to finish a custom collar can take on average 2-4 weeks.

Due to the custom nature, returns/exchanges are NOT accepted unless for manufacturer defect.

Washing is a snap, just place on the top rack of the dishwasher, or hand wash. Leave to dry on a dish rack or line dry only please.

NOTE: No collar is indestructible, please check your collars frequently for wear and tear and replace when necessary. After purchase, the use of this collar is the customer's sole responsibility.