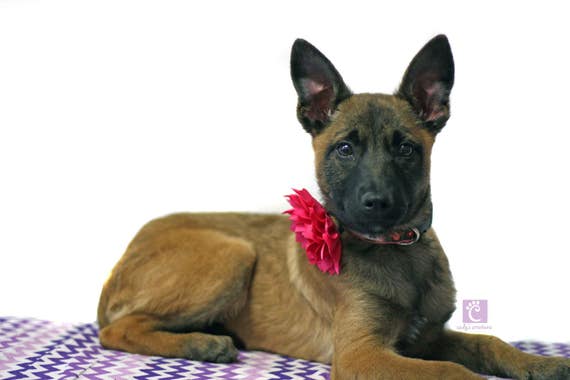 Small Collar Flower for Dog Collar attaches with hook-and-loop fastener
11 available
Life is better when you stop to smell the flowers, or when your pup wears one!
Collar flowers are made of satin and attach to your dog's collar (up to 2 inch wide) with hook and loop fastener. Just trim the hook and loop fastener to size. Flowers measure approximately 3.5 inches, but size may vary as each is handmade.
This listing is for 1 flower, dog nor collar are included :) Model is wearing a large size flower.
Please remove if your dog is going to be rough housing with other dogs as the flower can become a casualty.
Washing is a snap, just place on the top rack of the dishwasher, or hand wash. Leave to dry on a dish rack or line dry only please.
NOTE: No items indestructible, please check your pets items frequently for wear and tear and replace when necessary. After purchase, the use of this flower is the customer's sole responsibility.
You can find Cody's Creations on Facebook:
http://www.facebook.com/codyscreations