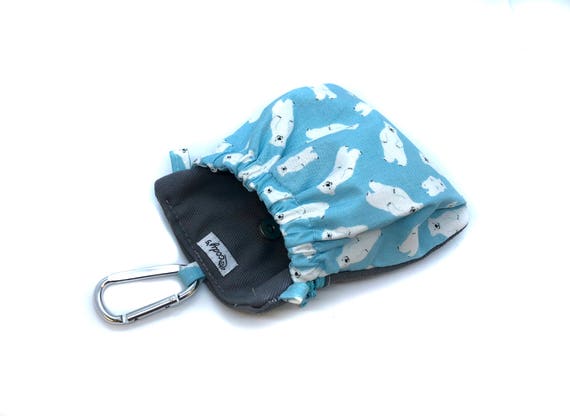 The Pocket 2.0 - Treat and Training Pouch - Polar Bear
2 available
The Pocket 2.0 is the Pocket with extras!


We kept the functionality and good looks of the Pocket and added some great features. The Pocket 2.0 clips right onto your don't have belt loops? Just clip it to your waist band!) leaving your pockets clean - no more cookie crumbs in your pockets. The Pocket gives you easy access to your treats with the elasticated front and small magnetic snap, no more hands stuck in your treat pouch, and no delay in rewarding your dog for a job well done - with the added feature of the magnetic snap it keeps nosy hounds out of the bag! With lots of color and pattern choices, you will no longer have to suffer by wearing an unflattering treat pouch or fanny pack. The extra loop on the side is the perfect place to clip your clicker when not in use, or use it to hold your keys. And last but not least, a zippered pocket on the back can hold your cell phone, keys, money and id, poop bags, whatever you need it for.

You can also choose to add a black strap so that you can wear your bag like a crossbody (great with tunics and dresses) or around your neck.

Makes a great gift for training instructors and day care workers too!

Measurements:
6 inches long by 5 inches wide for standard size,
8 inches long by 5 inches wide for Large size
(Need custom size, please message me)

Materials:
Cotton front
Bull denim
Fleece interfacing
Elastic
Magnetic Snap
Carabiner (Carabiner type and/or color may vary)

Washing Care:
Remove carabiner before washing
Cold wash gentle cycle (no bleach)
Tumble dry low
Warm low iron if needed

The Pocket 2.0 Treat and Training Pouch is an original design created by Cody's Creations and introduced to the public in April 2011 after several months of testing.